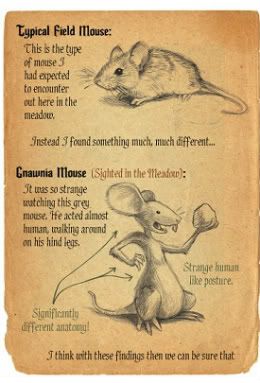 On June 28, 2008, I was wandering around on Facebook looking for ways to waste time, and I happened to stumble upon a game called Mousehunt. I probably wouldn't have payed much attention at all except that underneath it read something like "Save the Kingdom of Gnawnia!!"
Being a webadmin of this site called NarniaWeb (you may have heard of it), I could not pass up trying out a game that used a pun on Narnia and the rest is history.
For those of you who are not familiar with the game and have wondered what all of us crazy people are going on about, the game is pretty simple. You get a trap and some cheese, and you catch mice. The more mice you catch, the more you can upgrade your trap and cheese. The more you upgrade your trap and cheese, the more mice you can catch.

And so on and so forth.
One of the biggest pluses to the game is that it's a very passive play-style. At most, you can sound your hunter's horn every 15 minutes to catch a mouse. On the flipside, if you don't want to spend that much time (and very few people can), just signing on once every 24 hours will keep you active (you automatically check your trap every hour).

We're always looking for newcomers to join in the fun so we hope you'll give the game a try if you haven't before!!!

And while we admit that it's not a game for everyone, the more players the better!!
For those of you who are familiar with the game, you know what to do... start posting.