Destroy the Blob Named Bob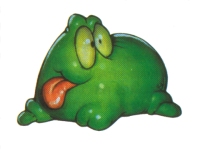 This is Bob. Bob's a Blob.

Bob the Blob has been trying to takeover NarniaWeb and needs to be taught a lesson. So it's time to teach him a little lesson. Here's how it works.
Person 1: Bob the Blob was on the roof of a very large building, plotting to take over NarniaWeb, when suddenly.
DiGoRyKiRkE: DiGoRyKiRkE pushes him off the edge of the building towards a. . .
Ramagut: Large pointy carrot placed there by Ramagut! Bob the Blob is poked by the carrot, but slithers away until. . .
ValiantArcher: ValiantArcher comes along with an inflatable hammer and boinks Bob the Blob on the head! This seems successful until Bob the Blob morphs into a giant, forum eating, mutant. He starts to head towards NarniaWeb's server, until. . .
Etc. . .
RULES:
-Nothing Violent. Keep things fun and fanciful
-Make sure to include your own username in each of your posts
-General Forum Rules Apply
I'll start things off:
Bob the blob was creeping up out of a sewer drain. DiGs grabbed the manhole cover and walloped him into the next street, where Bob the blob lands on a. . .