Re: Fact or Fiction?

Posted:
Aug 01, 2012 8:04 pm
Fact. That is, if by 'Australian shepherd' you mean a Kelpie as shown here: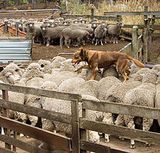 LIke the blue heeler, the Kelpie is a working dog used for herding sheep rather than cattle. Humans also, at a pinch.

Fact or Fiction:
I am going to France soon.
Fact. The bookings are all made