For those of you who know me at all you'll know that I'm pretty crazy about my pets. So I thought I'd start a blog for everyone to share pictures, stories, videos, etc of their pets (past and present) and just have a place to talk about them in case people are tired of listening to you in real life. And I also thought it'd be cool if people had questions about a pet that they could ask here for advice.

So... I'll get started.
Abi
- My Egyptian goddess cat. She's about three years old. She was named after the character Abigail Chase from National Treasure because when I brought her home, she followed me around the house meowing incessently. So you know that line "She just can't shut up can she?" Yeah, that's my Abi.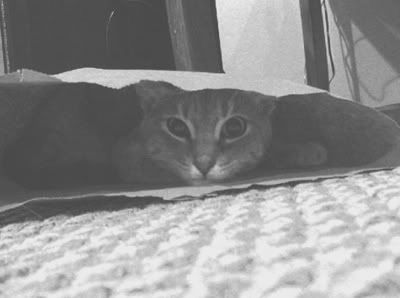 Abi has also claimed my husband as her person. She likes me too, but she really likes him. She also LOVES to play. Paper balls are her favorite toys and she'll chase them all over the house.
She has an irresistible attraction to bags and boxes left on the floor. If you leave groceries on the floor, beware, she'll be neatly tucked away on top of your cans inside the bag.

Murky
- For every bit of grace and stealth and prowness Abi has, Murky doesn't. Murky is my clunky, klutzy, cuddlebug kitty. We had no intention of getting a second cat, but we found him on the side of the road at my parents-in-law's farm. He was starved and tiny for his size so we took him in for the night and called the animal shelter -- they were full. Couldn't find anyone nearby to take him so we ended up keeping him.

Murky's name is a bit of an inside joke because unless you've played World of Warcraft, you're not gonna get it. There is a creature in the game called a Murloc that's half man and half fish and makes this weird gargling noise. The most famous Murloc in the game is called Murky. The first time we fed Murky, he was so hungry that he was trying to meow and eat at the same time and made the exact same gargling noise.
Murky is my trouble maker. He likes to say 'hi' to my friends when I'm on IM because he has a habit of walking across the keyboard at an inopportune moment, and I can't tell you how many crazy typos I've almost had show up on the news stories I post for NarniaWeb. His latest favorite thing to do is steal the drain catch out of the bathroom sink and then drop anything on the sink down the drain. (Yeah, we broke THAT habit REALLY fast... he's now banned from the bathroom.) So his official nickname is Murky Turkey and we call him Turkey more often than Murky.

But he's also the sweetest huggiest little thing and will just lay in your arms and purr for forever.
Fiona
- Fiona is my dream come true puppy. She's a big newcomer to the family as I've only had her for two weeks. I've never had a puppy before so I'm pretty excited about having her. Fiona is a
Newfoundland
and as I'm writing this, she's 12 weeks old and about 25lbs. When she's full grown, she'll be bigger than me. A lot of people think I'm crazy, but she's SOOO good and mellow and relaxed that she's definitely worth it as opposed to some small insane crazy puppy.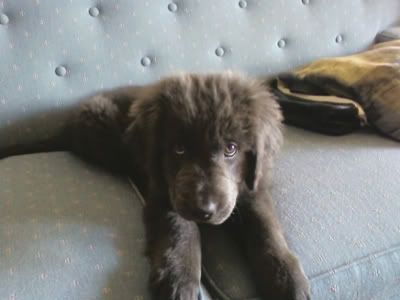 We named Fiona after Princess Fiona from Shrek. She burps, farts, drools, has the hairiest upper lip

but she's still my little princess. We're still in the process of housetraining, but the cats (particularly Murky) are the biggest problem cause she'll squat whenever she's rejected by them

But all in all, she's very good. She's learned sit, down, and come thus far and we're working stay... and the reason this is so impressive is cause I have no idea what I'm doing. She's smarter than me when it comes to tricks, that's for sure.

So anywoo... those are my "kids". They definitely keep me on my toes, but I love them to pieces.
And now it's everyone else's turn to rave about your pets that you have or had in the past. I love swapping pet stories.