Willow, Sty! It's good to see you both.

Sty, would your lobster happen to look anything like this?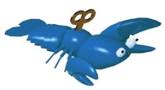 (This is how I have always imagined your blue lobster. Blame VeggieTales.

)

Hello, all!

It's been a while since my last visit; I've been a bit distracted. In large part... by my new little niece!

She was born on Feb. 18th, and SHE IS SUCH A CUTIE. My sister is so glad that she's here finally - she was a big baby, 9 lbs 6 oz! Her older brother, who's just under 3 1/2, is

super

jealous, but I'm hoping he'll come around.



We had some

really

nice weather yesterday - as in, high 50's, which, as stargazer tells me, is a record-breaking high for late February. It felt like spring - so, naturally, it snowed today.

Minnesota never knows what it wants. Of course, now that we've had a nice day, I want spring to come so we can go camping. The bug

always

bits a good 3-4 months prematurely, but at least it means we'll start making plans earlier.



Wow, how is March coming this week? It feels like the new year just started. While I'm looking forward to spring already, it would be nice if time didn't feel the need to move at such break-neck speeds.