No love in this thread.

I'm not surprised. It's been a rather horrid summer for gardeners I think. Either that or everyone is sick to death of it by now and with the arrival of cooler weather (yay!!) everyone is thinking snow instead of growing things. Except me of course.

Well, as an update to the previous thread, the watermelon that has the white arrow pointing to it grew big and strong and weighed in at 68.5lbs at the fair. Here's a picture with its third place ribbon.

Giant Watermelon of Doom
The first place watermelon weighed in at 121lbs so I have my work cut out for me for next year.

I also entered a pair of sugar pumpkins that took second place.

Pumpkins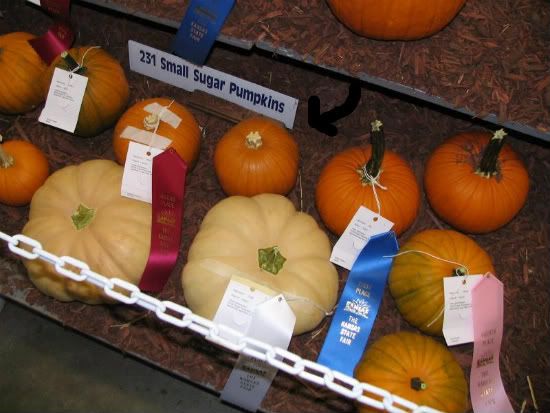 And finally, a much smaller watermelon (only 34lbs if I remember right) that took first place in the long green striped category.

Blue Ribbon Watermelon
Other updates... my sister and I dug our first sweet potato plant a few weeks ago cause neither of us have ever grown sweet potatoes before and didn't know when it would be ready. We got some sweet potatoes off of it and they were DELICIOUS!! Definitely a keeper for future years!

But they weren't quite ready yet (they were small) so we left the other three plants alone. Perhaps when it freezes? We're not sure.
My husband and I decided to invest in a small vineyard for the farm so we planted 29 grape plants last weekend. (It was supposed to be 30 but one plant was dead on arrival.) 9 Concords, 10 Mars, and 10 Reliance. I've no idea what to expect from this, but if they do well, we have plans to expand.

And finally, my garlic arrived today so that gives me something to plant.

It's officially the most expensive thing I've ever ordered, and when I opened it, I found out why. They sent full garlic bulbs, like the kind you grow in a store. I figured they'd just be garlic seeds. But even getting these is a learning experience. I thought you were supposed to pull these after a year or two or they'd start to go bad. I guess not. So now I don't know when you're supposed to pull them and use them. Anyways, looking forward to some tasty garlic next year! (I don't know about you all, but I am a garlic addict.

)