"I have loved the stars too fondly to be fearful of the night."
- "The Old Astronomer to His Pupil," Sarah Williams
"When I consider Your heavens, the work of Your fingers,
The moon and the stars, which You have ordained;
What is man that You take thought of him,
And the son of man that You care for him?"
- Psalm 8:3,4
"….I let the scope glide slowly upward until, guided more by habit than by conscious help from me, it comes to rest on a misty little group of stars. Once again, as on uncounted other nights, I see:
...
the Pleaids, rising through the mellow shade,
Glitter like a swarm of fireflies
Tangled in a silver braid
.
-from
Locksley Hall
by Alfred, Lord Tennyson
So clear and sparkling is the autumn night that, with averted vision, I can see quite readily the wraithlike wisps of nebulosity that festoon and enmesh this entire little cluster. Something else I see too. Something wrapped in wisps of memory. Something that I always see each time I look at the Pleiades. I see a small Ohio farmhouse, a little boy, and a tall kitchen window that faced the east."
-
Starlight Nights: The Adventures of a Star-Gazer
, Leslie Peltier
"Shine on, shine on Harvest Moon, up in the sky…"
- composer Harry Warren and lyricist Jack Brooks; sung by Dean Martin
From the deeply profound to the whimsical, from philosophy to poetry and song, the night sky has filled men and women with wonder for generations. The ever-changing face of the moon, the spectacular starry dome, the wandering planets, seemingly unpredictable comets and eclipses – all have drawn our attention to something glorious beyond our everyday lives and the ordinary world.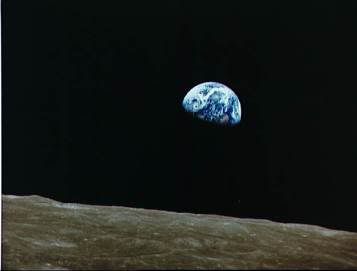 Earthrise from Apollo 8
Astronomy grew out of this attraction to the night sky, as well as a desire to understand and explain what was seen in it – to assign order and predictability to the ethereal mysteries seen above.
The last 40 years or so have seen an incredible explosion in our understanding of the sky, thanks to space probes sent to explore the planets, along with new and bigger telescopes to peer deep into the heavens. Beautiful pictures from the Hubble or International Space Station are commonplace these days, and our desktop computers offer more computing power than professional astronomers had even when I was a child. Theories of the universe's origin and the nature of stars and planets, and even discoveries of planets outside our solar system, have all flourished in recent years.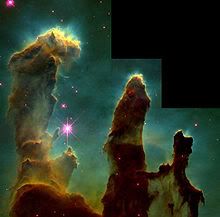 The Eagle Nebula's "Pillars of Creation" as seen by the Hubble
Yet in addition to all this, there's still something about getting out under the night sky and enjoying it for yourself. Like bird watching, rock collecting, and other nature-related hobbies, there's a sense of satisfaction in
identifying
what you're seeing: stepping out at night and recognizing the various twinkling specks as old friends, each one a unique individual with its own name.
And as Leslie Peltier's quote above illustrates, the sky provides a connection to our past – not only our own childhood memories, but even with generations of stargazers past and future. The sky over Cairo tonight is much like the one the ancient Egyptians saw when they built the pyramids, and is the same one that will shine a century from now.
And online predictions make it easy to step outside some night and watch as the International Space Station passes overhead or an Iridium satellite momentarily flares brightly - or to get hints and predictions for special events such as eclipses and meteor showers.
Welcome to the Astronomy thread – your place to:
- share your own observations of the sky
- share fond childhood – or recent – memories of things you've seen in the sky
- comment on astronomical events (like "Today is the winter solstice," or "There's an eclipse here tomorrow")
- mention some bit of astronomy-related news you've seen
- plug your favorite astronomical websites (please tell us why you like them!)
- ask questions (anything goes, from "What's that bright star in the east around midnight?" to "When is Halley's Comet coming back?")
Enjoy!
I'll close with a bit of humor from amateur astronomer Leslie Peltier's autobiography. As a youth he built his own observatory with a removable roof. If the weather looked nice he'd sometimes leave the roof off the following day. But rapidly-changing conditions meant he occasionally had to interrupt whatever he was doing to rush home to replace the roof before the telescope got wet. His sister wrote the following poem to mark those occasions:
Our hero felt the wind's first lash.
He saw the distant lightning's flash.
"My dear," he cried, "I shall return
Some other night with lips that burn.
Right now I've got to dash for home,
For I forgot to close the dome."
Credits:

- The title of this thread is an

homage

to Leslie Peltier's highly-recommended autobiography,

Starlight Nights: The Adventures of a Star-Gazer


- Thanks to johobbit for providing various

Starlight Nights

quotes!