Feel free to discuss your favorite boardgames here, from Clue (or Cluedo to our British/Australian friends) to Risk to Monopoly! And feel free to include card games such as Uno or Rummy.

I have a real affinity for board games and have been playing them faithfully since I was very young. I know most folks likely don't have much experience with boardgames outside of the standard fare one might find at their local Wal-Mart or Target. As much as I love the hobby I have quite a ways to go before I can call myself anything close to "experienced" in it. So if all you are used to is Sorry! or Monopoly, feel free to put down your thoughts and fond memories of those games to your hearts' content.

And answer a few questions too while you're here!

1. What is your favorite board game?
2. What piece do you prefer to play with in Monopoly?
3. Trivial Pursuit: Love it or hate it?
4. What three boardgames would you take with you if you were deserted on an island?
5. What color do you like to use? (pawn, token, armies, etc.)
6. Who do you like to play as for Clue (or Cluedo)?
7. Given the choice would you rather play a game that exercises your brain (like Chess, Mahjong, or Go) or is more simple fun or has storytelling elements (like Life, Battleship, or Sorry!)?
8. Chess or Checkers?
9. Name a board game you've always wanted to play but never got around to:
10. What board game do you play more than any other?
Now no one freak out on me here, but this is my current game collection in its shelves (minus Ticket to Ride, Pandemic, and Clue, which are over at my parents' house

).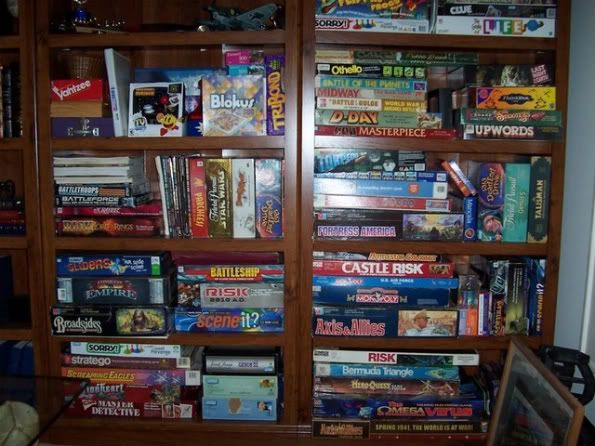 It looks like a lot but it's not as many as you'd think. I've seen people with collections of up to 2,500 board games! Suffice it to say my lovely Wifester thinks I have too many.