Narnian1, I'm a bit fanatical when it comes to keeping my books in great condition too but I doubt Shantih has trampled her copy of
The Stand
into the condition it is now. It's more likely that she's read the book so much that it's just wearing away.
Shantih, yes, I'm not saying it's a bad cover, rather that it seems very random considering the story. I get the dichotomy of good versus evil but it seems the cover artist just wanted to tie it in with Star Wars or something similar. Then again, it seems that in the late 70's and early 80's books and movies were notorious for being associated with things that had nothing to do with them. It could even be a case of the cover artist not having properly read the novel.
Then again, the bird-headed man with the scythe could evoke the themes of plague and mass death, ala the Black Death and bird-beaked masks some wore -see below: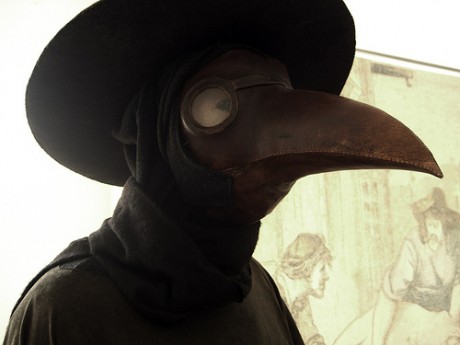 I was just curious and it seems I can't find any discussion about the cover on the Net. Still, thanks for your help.